Personnel Development Office
MISSION
Serves as the central point of contact and coordinator for the Chief of Ordnance to effect OD matters of proponency IAW AR 600-3, Army Personnel Development System. Acts as liaison and referral between active and reserve OD personnel and organizations, functional staff and academic departments within the ODS. The Chief of the Proponency Office is the principal advisor to the Chief of Ordnance on all matters relating to Branch personnel proponency, to include DA Civilians (Maintenance). Serves as the Executive Agent for the CSA Army Award for Maintenance Excellence (AAME). Manages, reviews and awards request of waivers for MOS training prerequisite requirements.
---
Purpose.
The purpose of the Ordnance Corps is to support the development, production, acquisition and sustainment of equipment including weapons systems and munitions, and to provide explosive ordnance disposal (EOD) during peace and war, and to provide superior combat power to the United States (U.S.) Army. (FM 4-30, Ordnance Operations) The Ordnance branch performs four core missions for the Army: maintenance, ammunition supply and distribution, EOD, and explosives safety through the Defense Ammunition Center. The Ordnance Corps is consistently ranked as one of the largest branches in the Army. The Ordnance branch has two officer AOCs, nine warrant officer MOSs, and 32 enlisted MOSs. There are Ordnance Soldiers assigned to every unit in the Army.
Proponent information.
The Chief of Ordnance is the branch proponent for the Ordnance branch. The Ordnance Personnel Development Office is responsible for the eight personnel development system life-cycle management functions for all Ordnance officers, warrant officers, Soldiers, and related civilian occupational series, including structure, acquisition, distribution, development, deployment, compensation, sustainment, and transition. Contact the Ordnance Personnel Development Office at the U.S. Army Ordnance School, 2221 Adams Ave, Bldg. 5020, Fort Lee, VA, 23801, Commercial telephone (804) 765–7384/ 7368 / 7385. DSN prefix is 539.
Functions.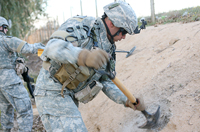 The four functions of the ordnance corps are maintenance, munitions, EOD, and explosive safety. Each of these functions has a critical role ensuring operational commanders and forces have the required combat power for mission accomplishment. These functions provide equipment serviceability, munitions availability, readiness, and protection that directly supports the foundations and tenets of unified land operations.
History and background.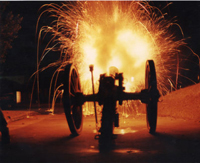 The Ordnance Corps has a proud tradition dating back to colonial America. In 1629, Samuel Sharpe was appointed as the first Master Gunner of Ordnance for the Massachusetts Bay Colony. The American Revolution established the general outlines of the future Ordnance Department. During the war, Colonel Benjamin Flower and Ezekiel Cheever, a civilian, provided ordnance support in the manufacturing of arms and equipment and supplied support to the army in the field. During the War of 1812, the Secretary of War recognized the need for a distinct branch to manage the procurement, research, and maintenance of ordnance materiel. On May 14, 1812, Congress officially established the Ordnance Department and appointed Colonel Decius Wadsworth as the first Chief of Ordnance.
Last updated 26-Jun-2020